To understand Schmorl's nodule (also known as Schmorl's node), it is first necessary to understand some basic facts about the spinal cord. The spinal cord is surrounded and protected by bones known as vertebrae. The main part of this bone is called the vertebral body. In between the vertebrae are shock-absorbing disks. The soft, central part of these disks is known as the nucleus pulposus. A picture of what the vertebral body and nucleus pulposus normally look like is shown below to the left. Note that the striped area surrounding the nucleus pulposus is the disk.

When a disk breaks through one of the upper or lower parts of the vertebral body, the soft central part of one of these disks (the nucleus pulposus) can enter into it. When this happens, it is known as a Schmorl's nodule. Below (to the right) is a picture of a Schmorl's nodule:

Note that the circular area below should not be there. It is there because the disc broke through the vertebral body, causing the nucleus pulposis to go into it.

Schmorl's Nodule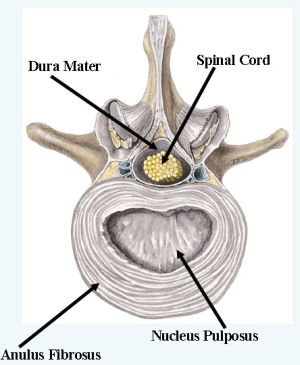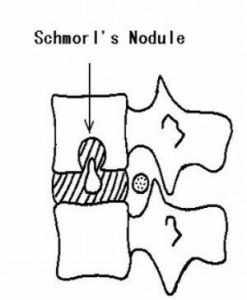 WHAT CAUSES SCHMORL'S NODULES?


Schmorl's nodules tend to occur after trauma to the spine that causes wear and tear to it over time. Usually, if repeated trauma caused the formation of Schmorl's nodule, the patient does not remember a specific motion that caused the pain to begin. It may also be possible that people can be born with Schmorl's nodules. Also, some people may be born with weak bones that surround the spine, which makes it easier for the disk to enter the bone.


DO SCHMORL'S NODULES CAUSE PAIN?


Although Schmorl's nodules may cause pain (usually in the middle/lower back), they usually do not cause any other symptoms besides stiffness in the lower spine. In most cases, Schmorl's nodes do not cause any symptoms at all. Since pain is a subjective process, it can be experienced as mild, moderate, or severe. The most common age group that present with pain due to Schmorl's nodules are between 14 and 18. Such individuals usually play sports and the pain prevents them from doing so any more, which causes them to see a doctor. The area where the person feels pain is almost always in the area where the Schmorl's nodule is located.


ARE SCHMORL'S NODULES RARE OR COMMON?


Schmorl's nodules are common and are mostly found in the middle and lower spine. They are especially common when the spine has aged and undergoes minor degeneration.


WHAT SHOULD I BE CONCERNED ABOUT IF I HAVE SCHMORL'S NODULES?


It is generally accepted that the presence of one or many Schmorl's nodules can lead to earlier than normal deterioration of the disks that are positioned between the bones surrounding the spine. This is especially true in younger age groups.


HOW ARE SCHMORL'S NODULES DIAGNOSED?


Schmorl's nodules can be detected by an x-ray of the spine. However, a much more expensive test that does not use x-rays, known as Magnetic Resonance Imaging, is better at diagnosing Schmorl's nodules.


HOW ARE SCHMORL'S NODULES TREATED?


Schmorl's nodules typically do not require extensive treatment. However, pain relief due to Schmorl's nodules is usually relieved through rest and/or by going to a doctor who can use his/her hands to manipulate the bones surrounding the spine. Doctors who do this are known as chiropractors. Surgery is rarely used as a treatment for Schmorl's nodules if that is the only presenting problem.


WHY IS IT CALLED A SCHMORL'S NODULE?


Schmorl's nodule is named after Christian G. Schmorl (1861-1932), a German pathologist who first described the condition in 1927. A pathologist is someone who interprets and diagnoses the changes caused by disease in tissues and body fluids. Nodule comes from the Latin word "nodus" meaning "knot."